A 360° dome projection experience which immerses audiences in a pair of spectacular wild places—one on either side of British Columbia.
Travel first with host T'uy't'tanat-Cease Wyss to Stalkaya (The Dakota Bear Sanctuary) in her people's unceded Sḵwx̱wú7mesh territory on the Sunshine Coast; then to the unique Inland Temperate Rainforest in the province's Kootenay region. There, ethnobotanist and cedar artist Wyss meets Craig Pettitt, veteran conservationist from Valhalla Wilderness Society, to explore an ancient forest which was long home to mountain caribou, now on the verge of extinction from clearcut logging. 
In this 360 film, world-premiering at VIFF, Pettitt shares a plan to protect these forests—with trees as old as 2,000 years—and the caribou that depend on them. Meanwhile, on the BC Coast, Wyss wanders through Stalkaya's ancient yellow cedars, home to dozens of families of black bears. 
With its breathtaking, immersive landscape, "SANCTUARY: A Tale of Two Ancient Forests" provides an ecological adventure, a feast for the senses, and an implicit call to action.
To learn more about the Inland Temperate Rainforest and help protect it, go now to VWS.org/action 
While at SIGNALS, you will have the opportunity to book one of two 10 minute dome experiences – either the Dakota Bear Sanctuary, or the Inland Forest.
Limited viewing slots available during SIGNALS, Oct 1 and 2. Book your free ticket online!
Note: each forest is presented as its own screening; attendees will be able to select one or the other to view.
Key Artists: Damien Gillis, Cease Wyss, Olivier Leroux
Project Runtime: 10 min x 2
Project Type: Dome Experience
OLIVIER LEROUX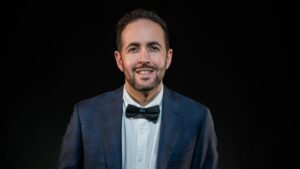 Olivier Leroux is an entrepreneur, filmmaker, cinematographer and father. Born in Quebec, he lived in many parts of the world before settling in Vancouver 10 years ago. In 2016, he started Impact VR, with a 360 camera he 3d printed and attached together with rubber bands. He then started teaching classes and workshops at UBC, Emily Carr and with IM4. He went on to produce several commercial projects, in 360 video and film, that led him to VIFF, Cannes, Sundance and many other film festivals. In 2020, he started experimenting with the idea of projecting his immersive work inside of a dome, a dream that became a reality with the release of Sanctuary.
Photo: https://drive.google.com/file/d/1XAd3QQvsHfO5Apf5dSigP4r8UqsFlwWf/view?usp=sharing
DAMIEN GILLIS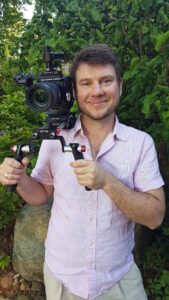 Damien Gillis is a BC-based documentary filmmaker, media producer, and journalist. He co-directed and produced the feature doc Fractured Land, which broadcast in multiple languages and won Best BC Film and the VIFF Impact Canadian Audience Award at the 2015 Vancouver International Film Festival. He has directed and produced numerous short films which have screened at festivals around the world. He has recently expanded his focus into VR, producing the immersive dome projection film Sanctuary: The Dakota Bear Ancient Forest Experience, which premiered at the 2021 PuSh International Performing Arts Festival and played at UBC's Museum of Anthropology. His writing has appeared in The New York Times, The Tyee, and The Narwhal. 
DR T'UY'T'TANAT-CEASE WYSS
Skwxwu7mesh/Sto:Lo/Hawaiian/Swiss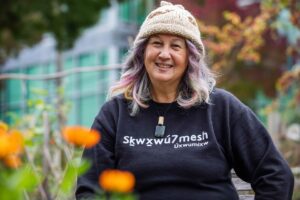 Dr T'uy't'tanat- Cease Wyss is an interdisciplinary artist who works with digital media, writing, performance and land based remediations as her multi-disciplinary arts practice. She is a community engaged and public artist and ethnobotanist.
Her works range over 30+ years and have always focussed on sustainability, permaculture techniques, Coast Salish Cultural elements and have included themes of ethnobotany, indigenous language revival, Salish weaving and digital media technology.
In 2022 Cease was awarded an honorary PhD from ECUAD and was also awarded the MST [Musqueam/Skwxwu7mesh/Tseil watuth] AiR fieldhouse in Stanley Park for the next 3 years.